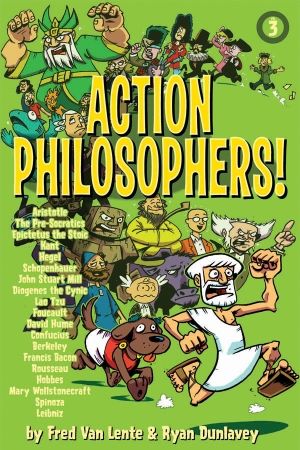 Van Lente and Dunlavey continue to bring education to the masses with this their third volume of
Action Philosophers
. This is also their last volume and they pack it full with eighteen important thinkers -- that's as many as the previous two volumes combined!
They stick to the same winning formula as the previous volumes: short biographical pieces, with overviews of the various philosophical ideas, mixed in with large doses of humour and some very creative cartooning. We get John Stuart Mill as Charlie Brown, the story of Hobbes on the segments of a leviathan, and
Six Degrees of Francis Bacon
.
Arguably this is a more conservative selection than previous volumes. The first included Ayn Rand, Thomas Jefferson, Freud, Jung, and Joseph Campbell; none of them standard members of the pantheon of Great Philosophers. I am not saying that Freud and Jung weren't important! I would just put them in a different discipline. Jefferson too. The second volume looked at the Kabbalah; specifically Isaac Luria. Volume three sticks to the Western canon, adding only Lao Tzu, Confucius, Mary Wollstonecraft, and Foucault.
The only reservation I have about the book is that it covers so many that several of them only get a page or two. This works for the Pre-Socratics, with six men sharing ten pages, but almost half of the people covered in this book only get a page or two. Van Lente and Dunlavey have gone on to their next project,
Action Presidents
, but it would have been nice to see these expanded to fill a fourth volume.