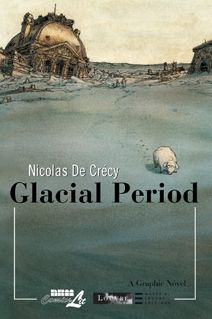 An expedition marches out across a frozen wasteland. Centuries before this land was inhabited, but an ice age destroyed the primitive peoples who once lived there and now scientists are searching for physical evidence of their lives. The group is led by Gregor, who is old, but driven, and includes the beautiful Juliette, whose father funded the expedition. They are accompanied by a group of genetically modified dogs, who can speak and interact with humans. Most famous among them is Hulk, gifted with a "historiological sense of smell". He is named for an ancient god, as (I assume) is another dog, Spider-Man. Hulk is plagued by a dream he cannot understand and, like everyone else, is fixated on Juliette. After long months of nothing but cold and wind, the group has fallen into a routine of petty squabbling and accusations. When Hulk is separated from the others, Gregor insists they go on without him. As the group's tensions boil over the ground itself fragments and tectonic forces lift up an ancient edifice, the Louvre. Yes,
ours
is that ancient civilization.
This is the first in what I understand will be four graphic novels co-published by NBM/Comicslit and the Louvre museum in Paris, each featuring the work of a different cartoonist. Nicolas De Crecy uses the first third of this book to set things up – the march across the snow, the bickering about authority – but once we arrive at the museum the book turns into a discussion of history and a demonstration of how our preconceptions limit what we are able of understanding about the past, even when faced with hard physical evidence. On entering the museum one member of the group, Joseph, attempts to recreate the story of our civilization and how it came to be lost using only the paintings on the museum's walls. None of them expected us to be capable of such monuments, or even of basic literacy, and when faced with our achievements the group is still unwilling to concede to us anything that counters their belief in our primitivism. Meanwhile, Hulk has found his own way into the museum, where he interacts with a wide range or artefacts – who speak him as though he were a new addition to the collection. They tell him about themselves. I particularly liked their account of how the museum saved it collection from the Nazis. But how did we get from where we are now to being a frozen and forgotten civilization wasteland? People who want to know may be disappointed, but I don't think the book suffers because of its lack of backstory. De Crecy's aim is to discuss the museum and how it structures our understanding of the past and he does so with wit and humour and beautiful illustrations. A book well worth checking out!