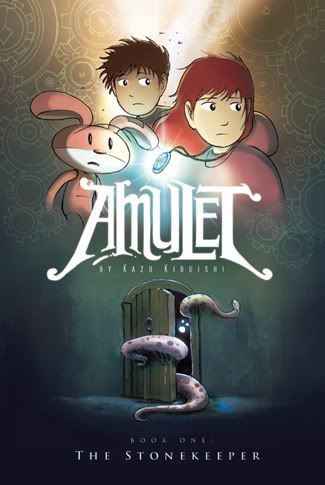 Amulet
is the new graphic novel series by Kazu Kibuishi. Kibuishi is developing a remarkable track record. He is the creator of the webcomic
Copper
and in 2004 created the four issue
Daisy Kutter
. He is also the creator and editor of the remarkable
Flight
series, a critically and commercially successful comic anthology series, which has reached four volumes and spun out to the recently released
Flight Explorer
series.
Amulet
is his first attempt at extended storytelling.
It's the story of Emily and her kid brother Navin. After their father is killed in an automobile accident, their mother decides to start over and takes the kids to live at an old family home in the country. It belonged to her grandfather, Silas Charnon. When Silas' wife died, he locked himself in the house and was never seen again. Decades have passed and the house has sat empty ever since. While they are cleaning up the house Emily discovers the library and an amulet, which will manifest some remarkable powers. Soon strange things will happen, their mother will be kidnapped and the kids will enter into a strange world in order to rescue her.
Kibuishi brings his considerable storytelling skills to this book. There's a lot that looks familiar. The plane, and the mushrooms, look like something out of
Copper
, but he also brings an interest in Lovecraftian monsters. There a tentacles everywhere. But Kibuishi doesn't rely on monsters or action sequences, though there are plenty of both; instead we follow the children on an emotional roller coaster, as they lose their father and then their mother. But, while the father is dead and gone, they have a chance to save their mother from whatever it is that was waiting in the basement. Don't get me wrong. This is very much an all ages book, it even has a gang of cute robots thrown in, but Kibuishi trusts the kids in the story and his readers. And we readers are rewarded with a great story. One I can't recommend highly enough. Scholastic has found their follow up hit to
Bone
. I just wish we didn't have to wait until next year for the second volume.