Last year Emmie took me to places I had never been before, the Philippines and Singapore, in order to meet her family. This year it was my turn to introduce her to some of my family. Actually, it was my turn to meet some of my family as well. As I've mention here before, last year (January 2007) I discovered five sisters I didn't know I had. Most of them live around Edmonton, Alberta, so that's where we went. I hadn't been there in years. Emmie had never been further east or north than Hope, BC, so it was a bigger trip for her than most of us Westerners would appreciate.
I have a sister Terry who lives in Edmonton (she's not one of the five). She'd invited us to stay with her, but was on her own vacation when we made out final plans, so we stayed the first two days in a hotel. We arrived before check-in time, so we left our luggage and looked around the downtown area. We visited the nearby legislature: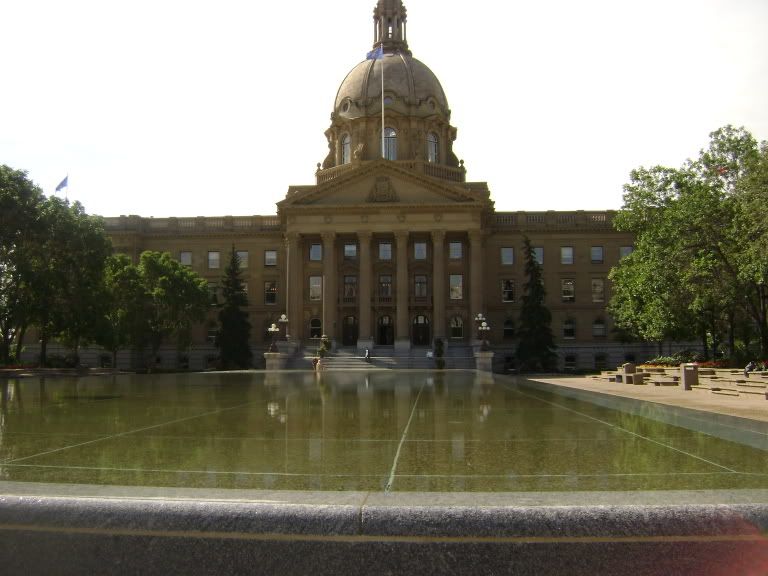 (As always, the pictures are much bigger when you click on them.)
We took the tour: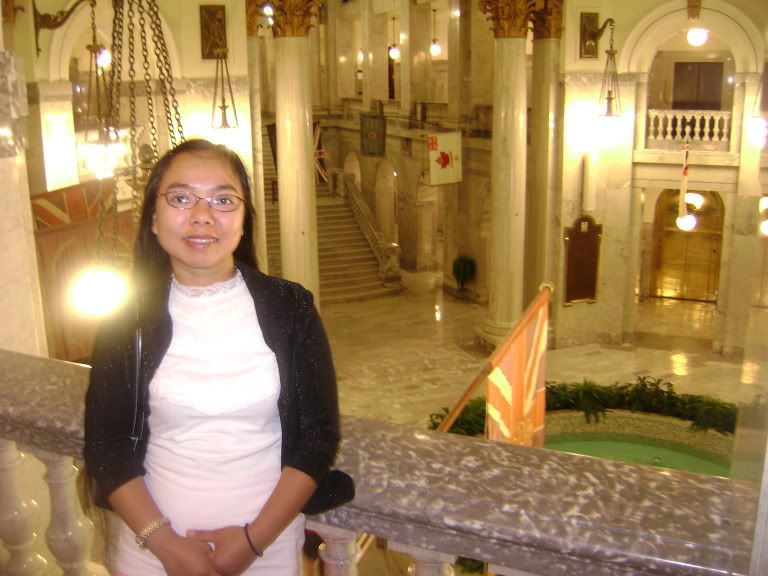 We even saw the 120,000 piece Lego version: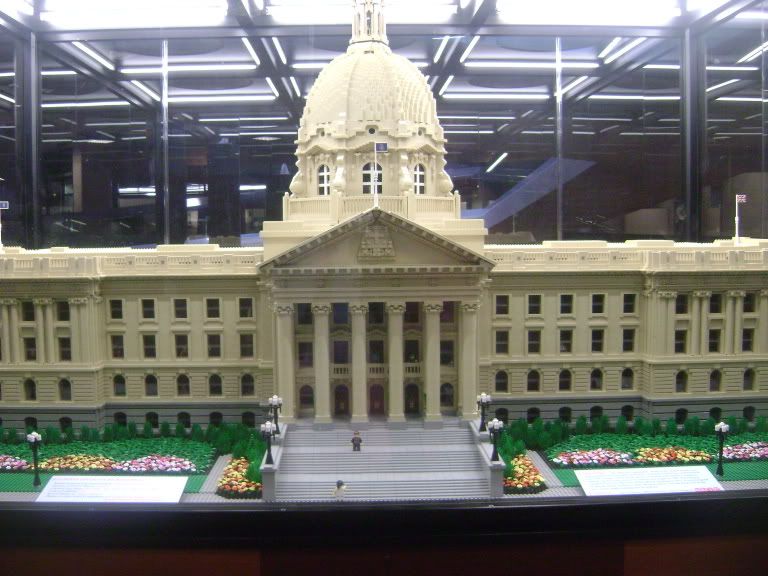 City Hall: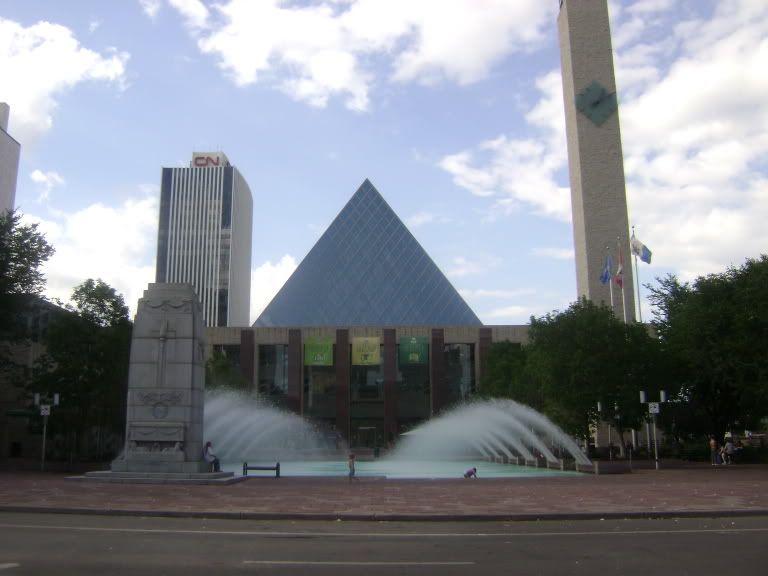 A monument to the Chinese labourers who built our railways: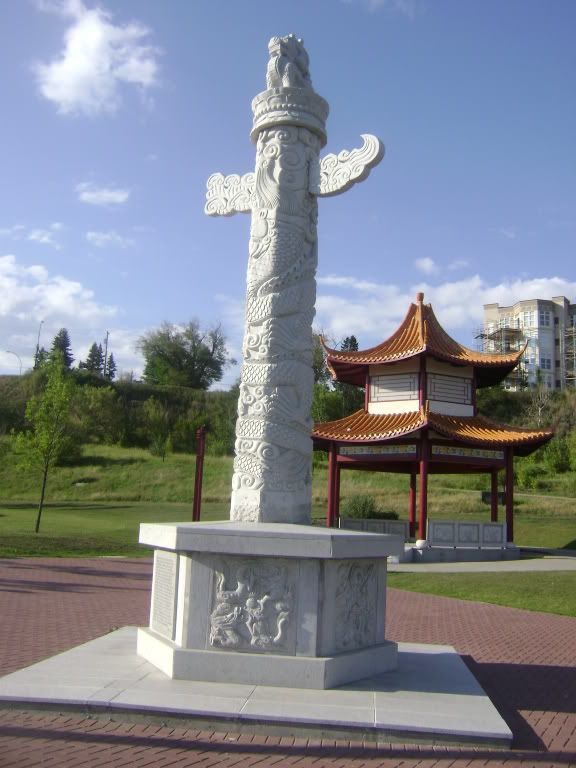 Overall I'd say Edmonton makes a good impression on visitors, but there really isn't anything for tourists. People come there to live and work. The downtown was in good order – better than Victoria's, but not as busy. Most locals spend their time in either the Whyte Avenue area, near the university, or in the West Edmonton Mall.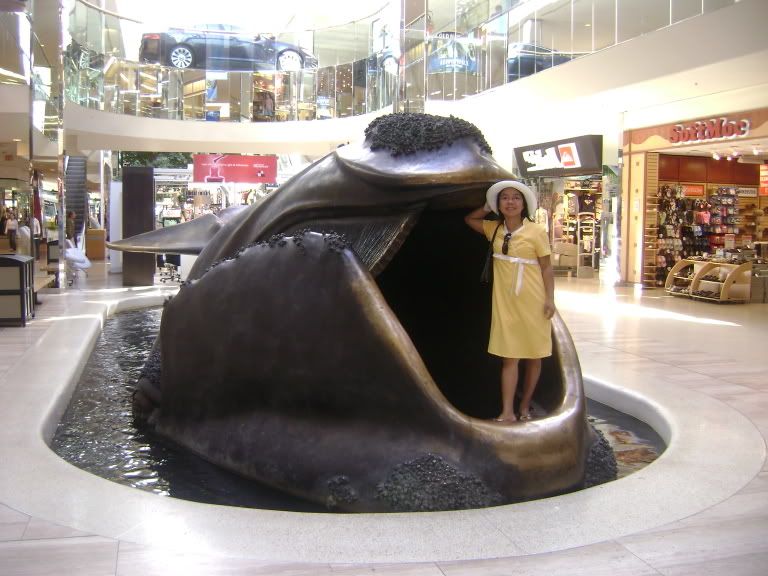 We spent some time there, but not much money. I did bungee jump. Yep, I stepped off an eight storey ledge with an elastic tied to my ankles. I have a video, but I'll need software to convert the format before I can post it.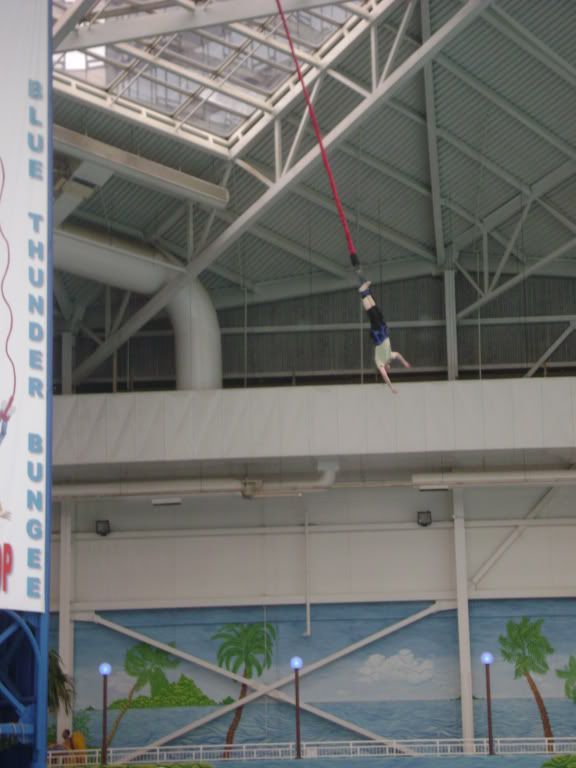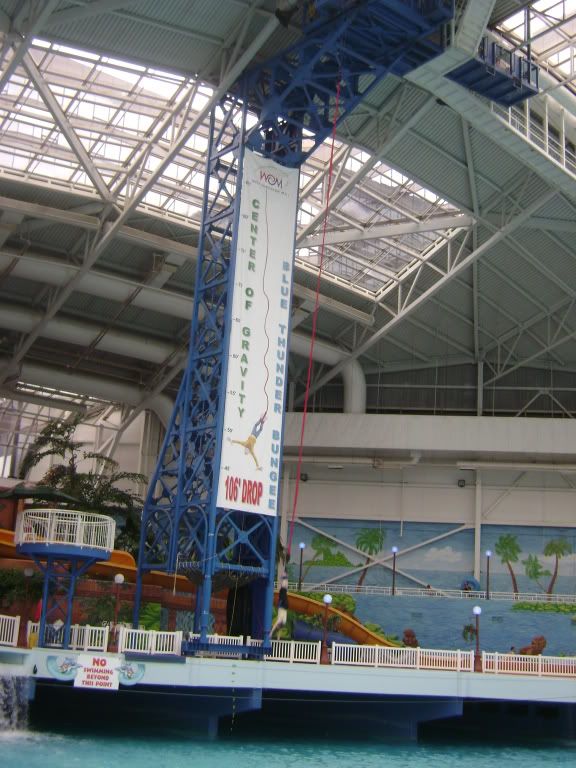 They had a tandem jump, but Emmie said "No, I'd rather spend the money on clothes."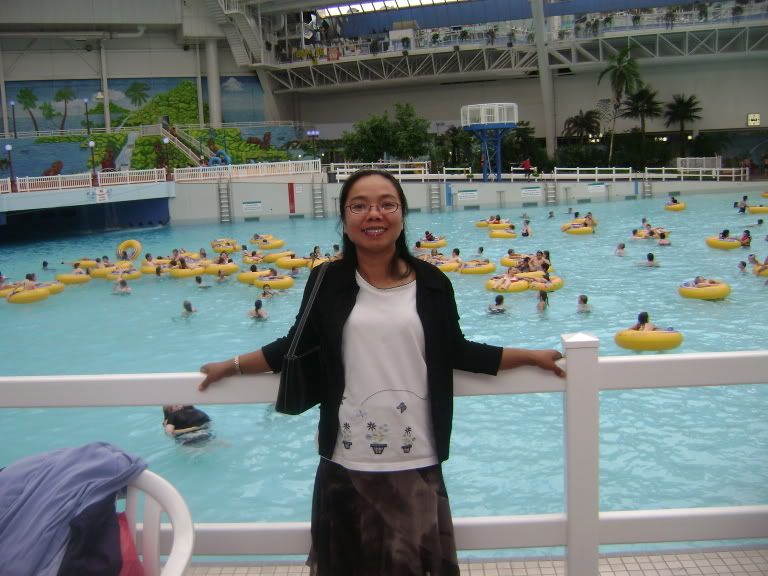 (That's my audience behind her.)
Terry lives near the Mall, with her husband Maurice, their daughter Alexis, and their dog Cassie.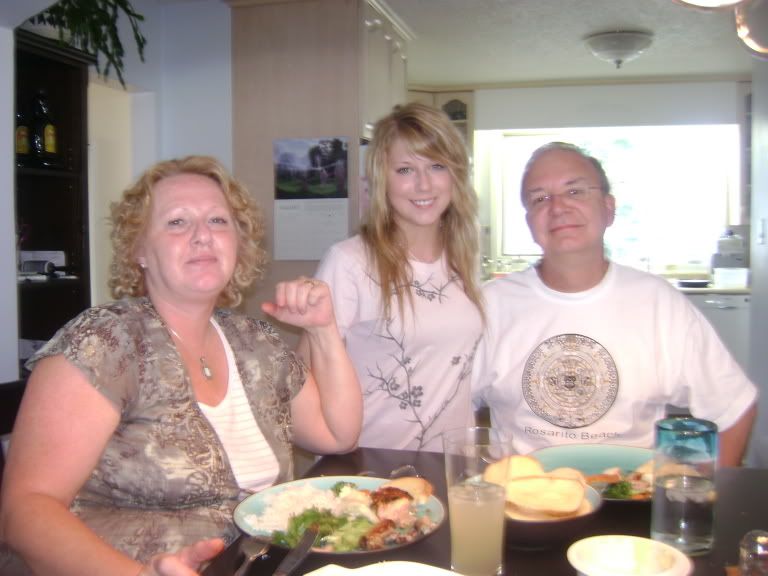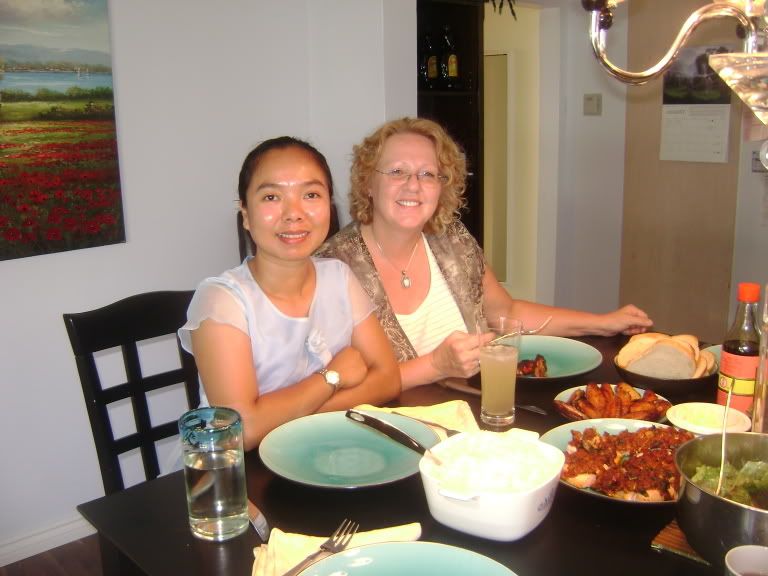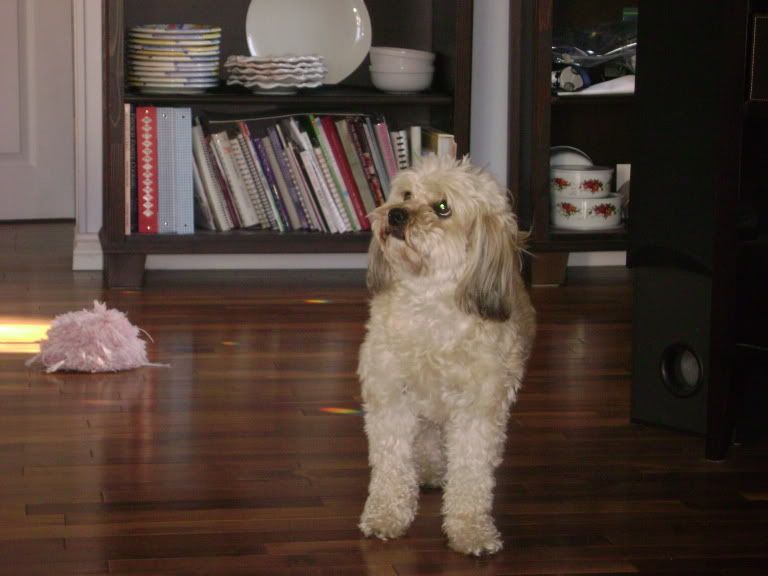 I don't watch TV at home, other than thru DVDs, and I couldn't get the hang of either Terry's Tivo or Judy's satellite TV.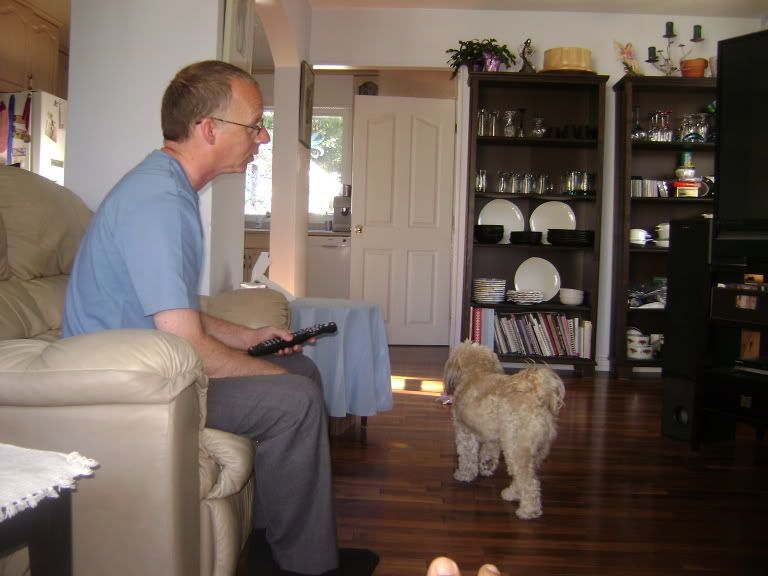 Emmie in Terry's vegetable garden: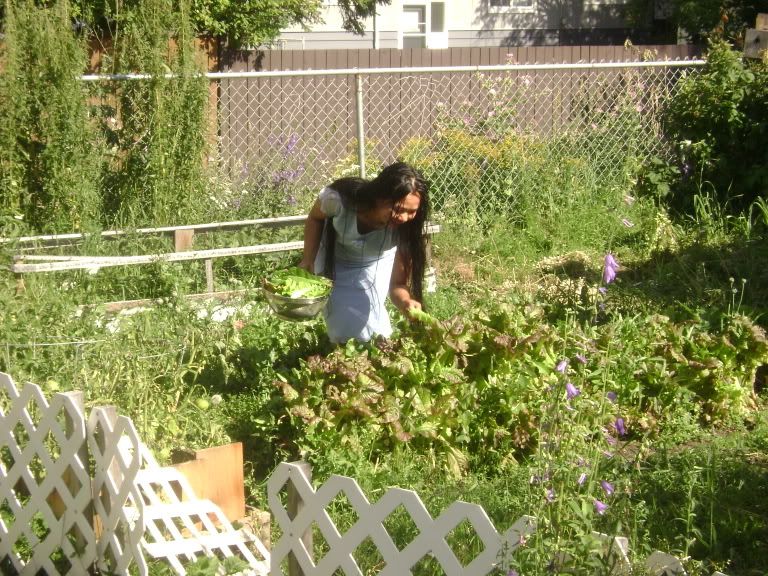 A couple of hours west of Edmonton is the small town of Wildwood. Three of the five Brown sisters live there, another lives in Edmonton, and the fifth in Hudson Hope, BC. The fifth one, Jo-Anne, couldn't make it. She broke a few ribs and was forced to stay close to home.
We stayed with my sister Judy: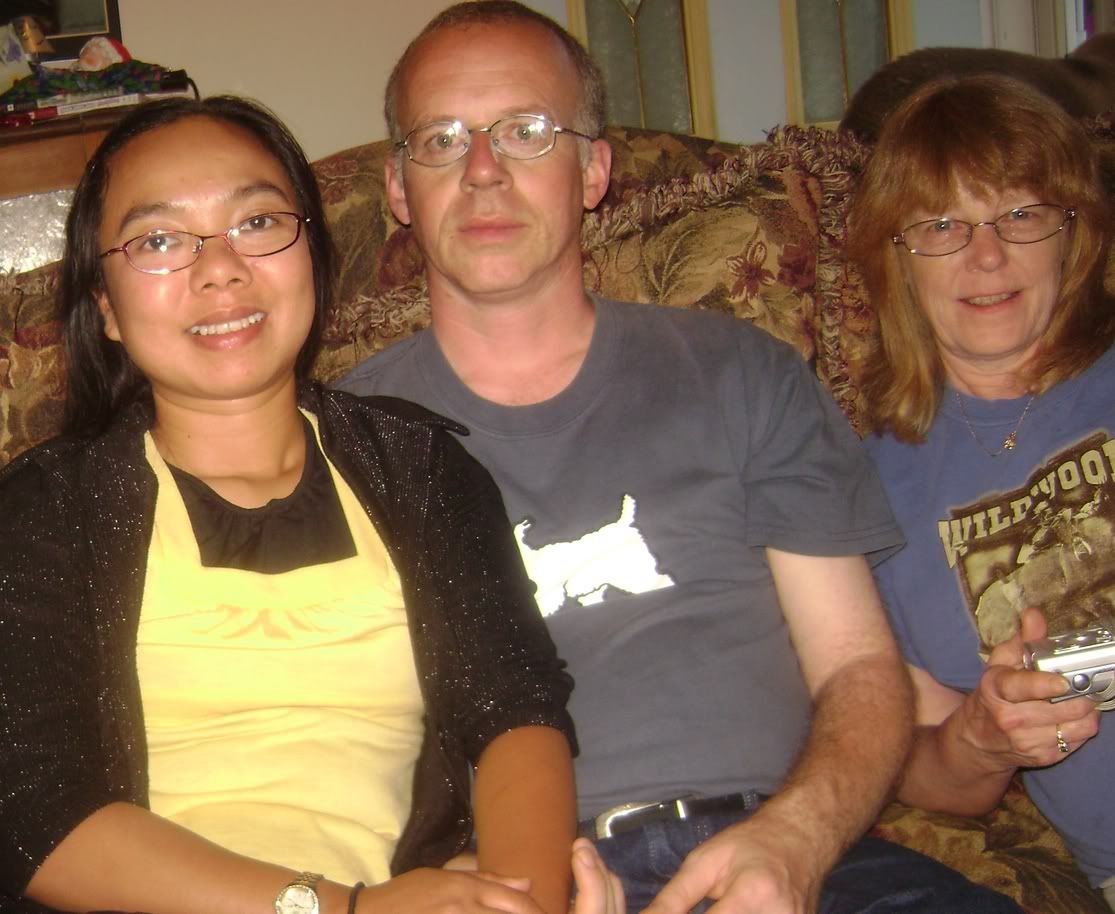 Left to right: My other sisters, Debbie, Susan, and Carol: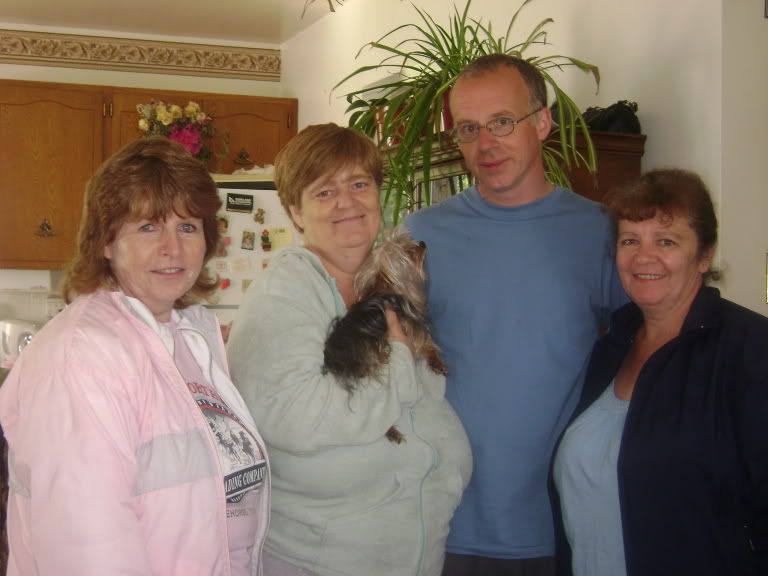 We didn't actually stay in the house. We had the option of staying in a camper and Emmie was delighted with the idea. She'd never roughed it before. Of course, a camper that sleeps six and has a kitchen, shower, and TV isn't everyone's idea of roughing it, but this was her first time: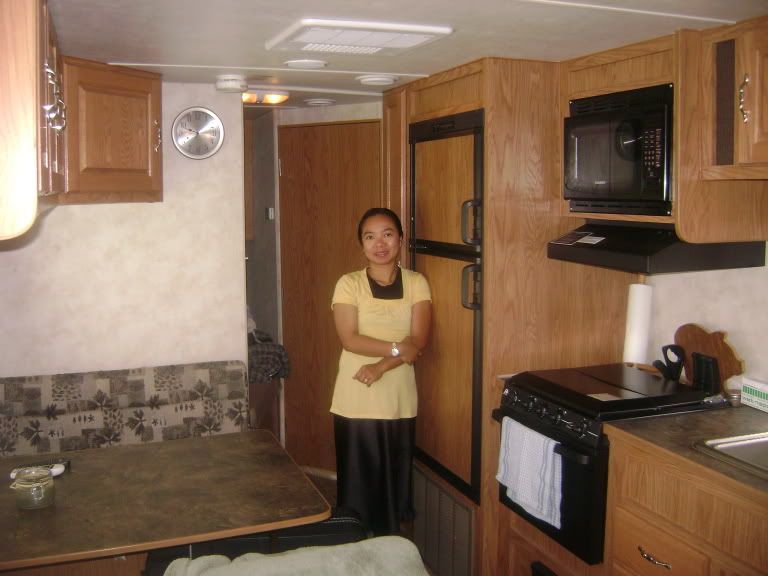 Judy's house is home to four cats and Four. Million. Kids. Mostly grandchildren.
A group shot: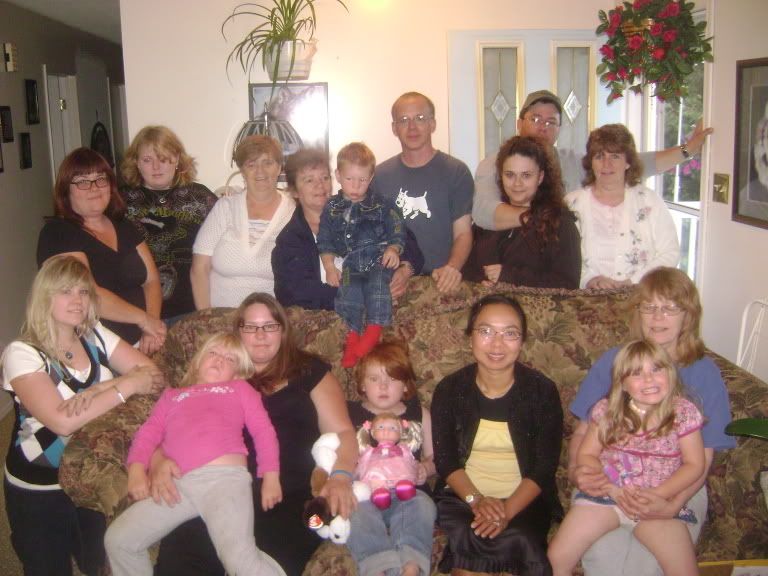 (Hopefully I'll get this right! From left to right: Seated: Tamara (actually kneeling beside couch, Judy's daughter), Dawn (Judy's daughter), Katelyn (Dawn's daughter, on Dawn's lap), Rowan (Janey's daughter), Emmie, Judy, Bre-anna (on Judy's lap). Standing behind: Janey (Judy's former daughter-in-law and Rowan's mom), Seara (Judy's granddaughter), Susan, Carol, Reilly (Dawn's son), Me, Lara (Dwayne's wife), Dwayne (behind Lara, Debbie's son), Debbie.
Emmie with me and my sisters: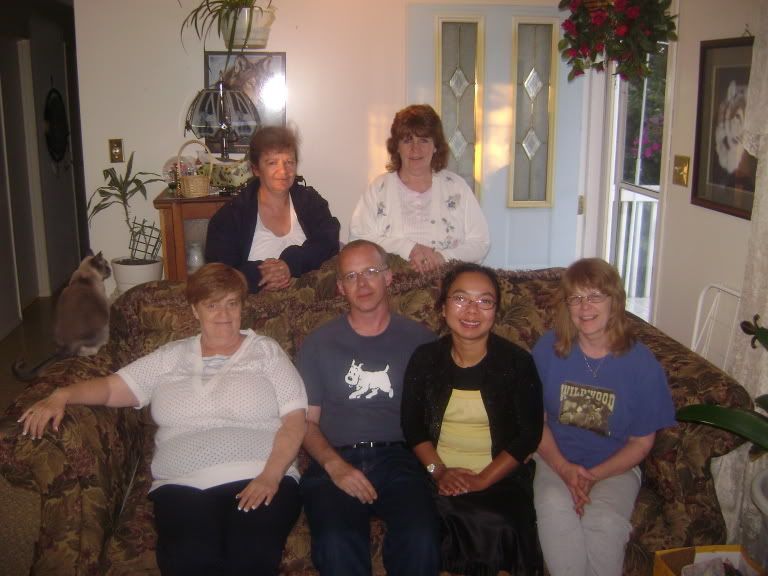 Two kittens asleep on the couch: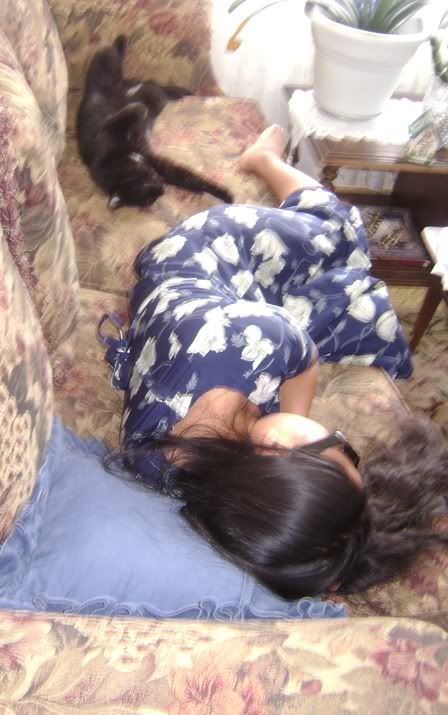 (Yeah, she sleeps with her sunglasses on. She's that cool!)
We made three trips while there. The first was to the local cemetery, where our father, Douglas Brown is buried.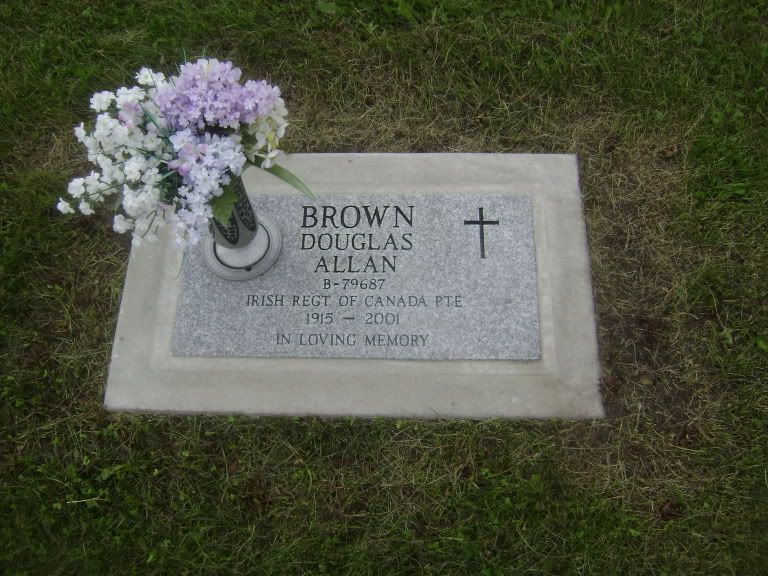 Our second trip was to a coal field where Judy's son-in-law Kelly works.
Kelly in front of one of the trucks: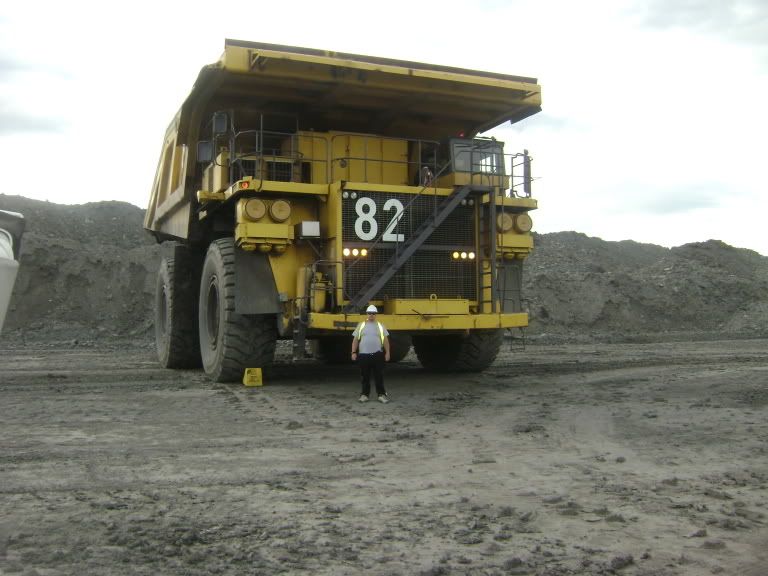 To give you a little perspective, here he is with his Auntie Em: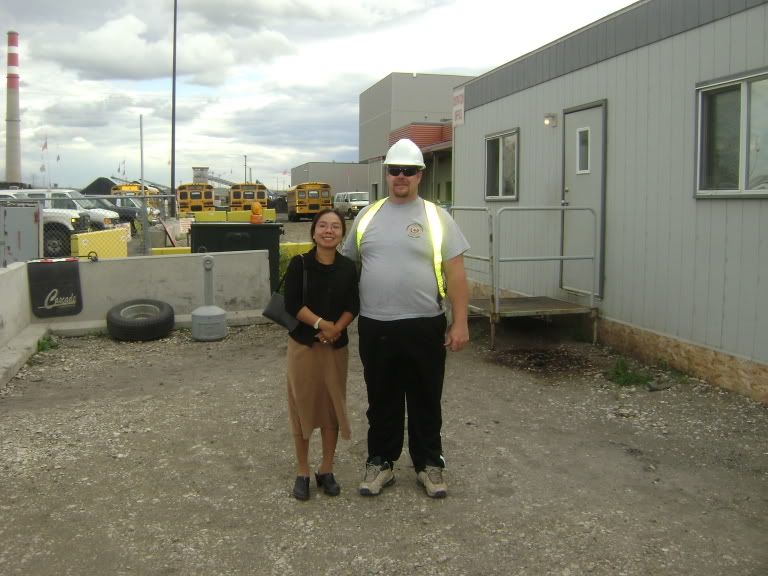 (Did anyone think I could resist a joke that bad?)
A couple of city buses could park in the
shovel
of this machine. It's that big!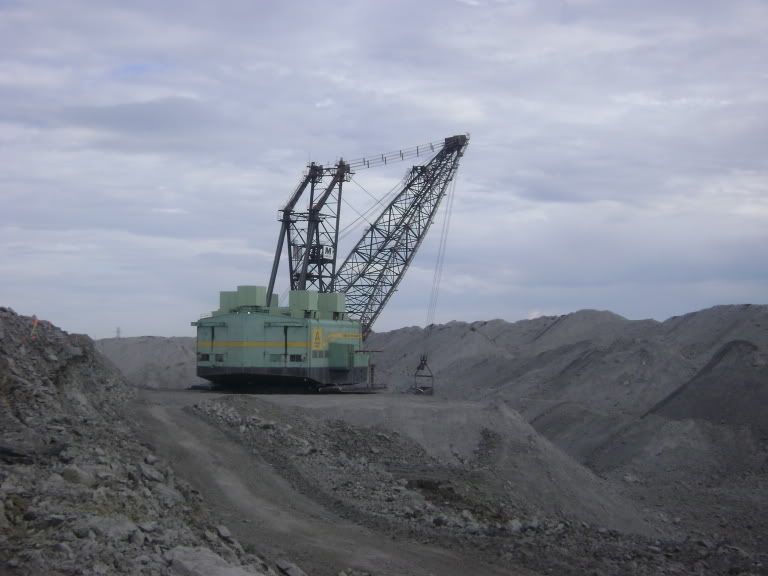 Kelly's own vehicle: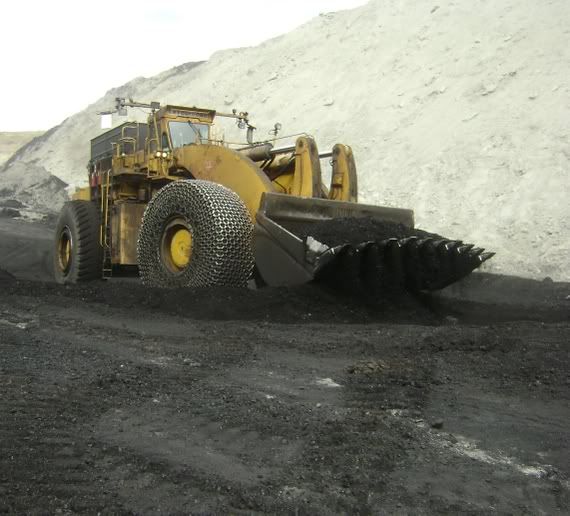 Emmie with Kelly and Dawn's little girl Katelyn: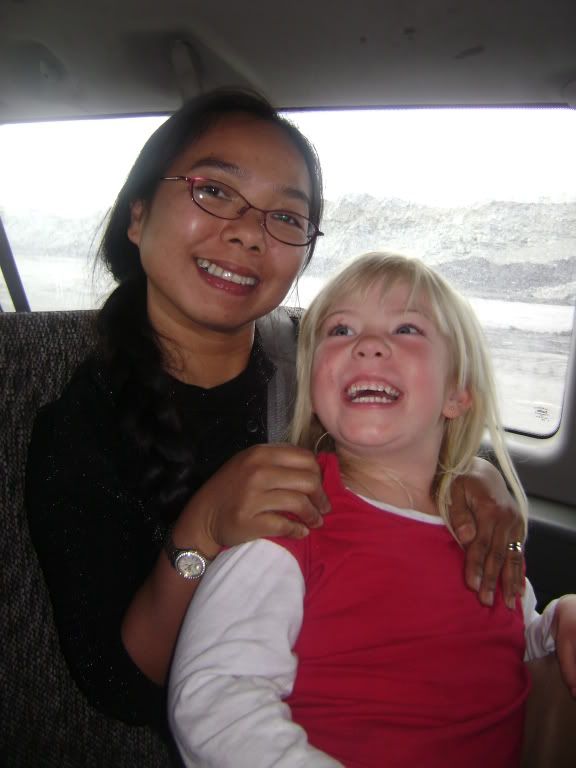 Our last trip was a day trip to Jasper National Park. On the way there we saw a small black bear, but very little in the park itself.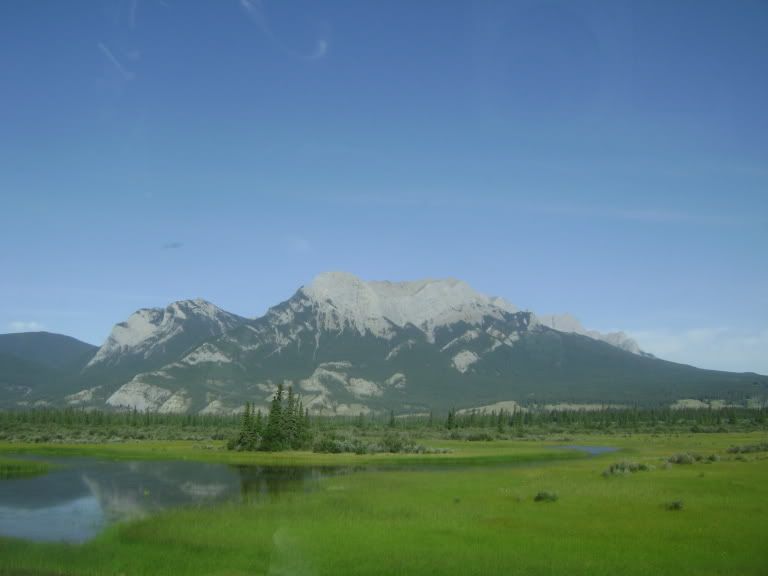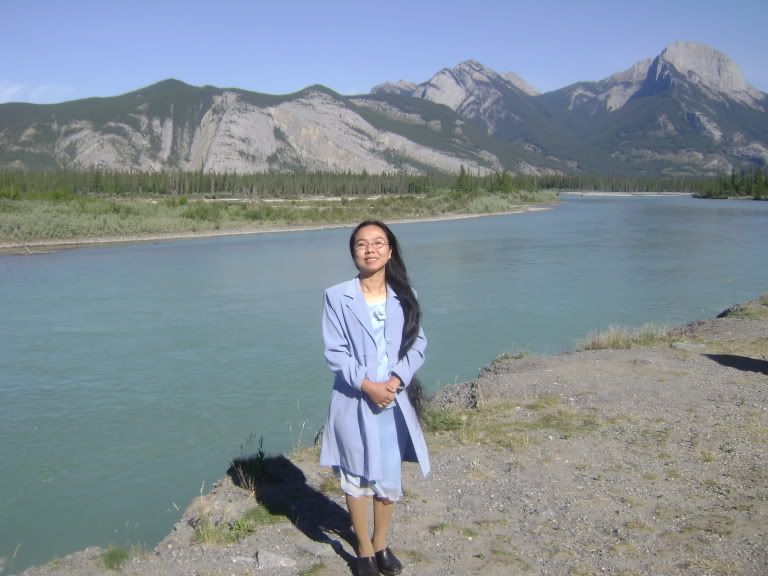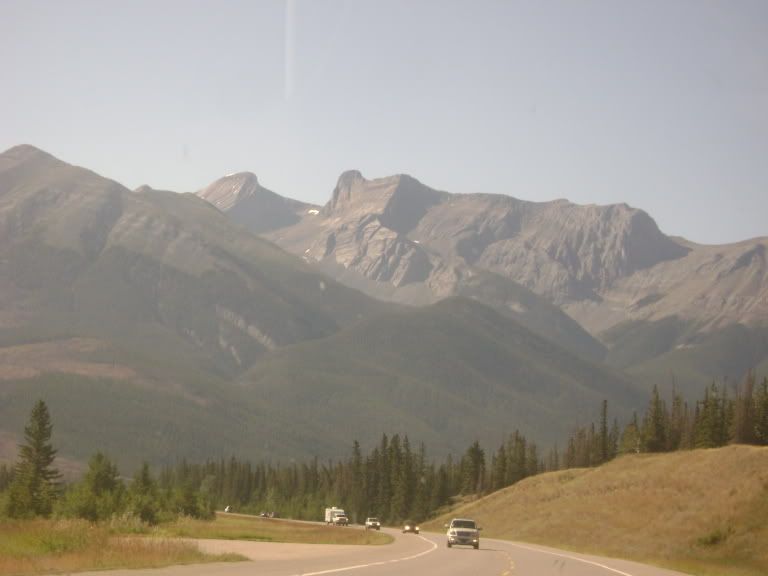 Emmie loved the town of Jasper so much I could hardly get her out of it: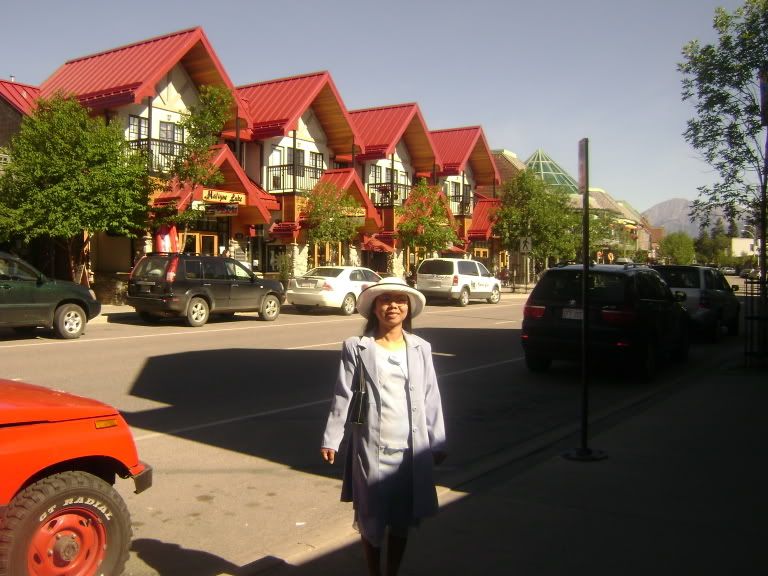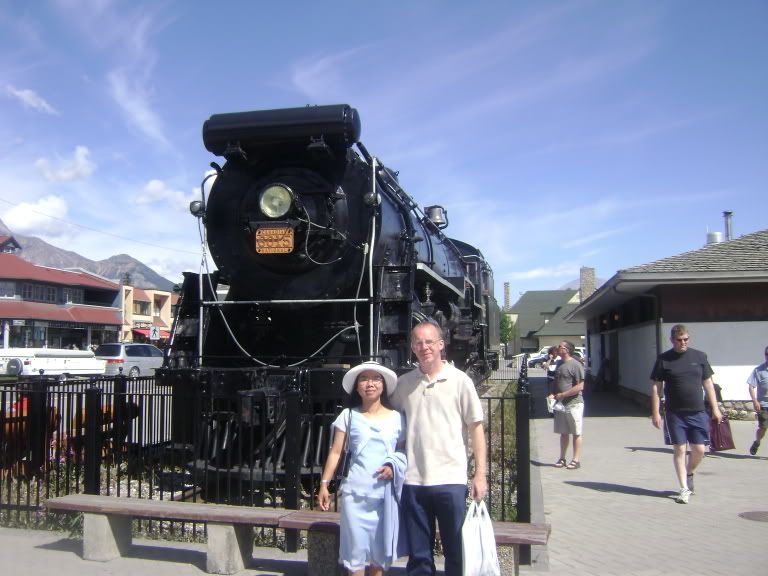 The trip back to Wildwood: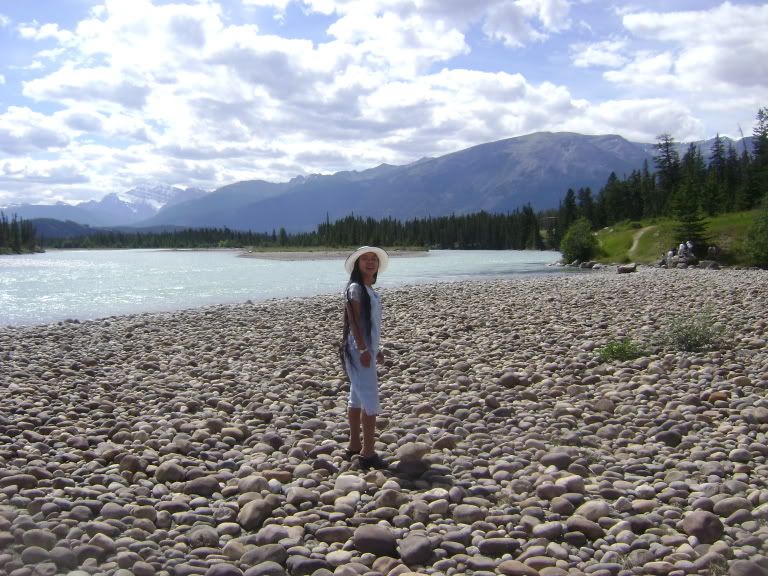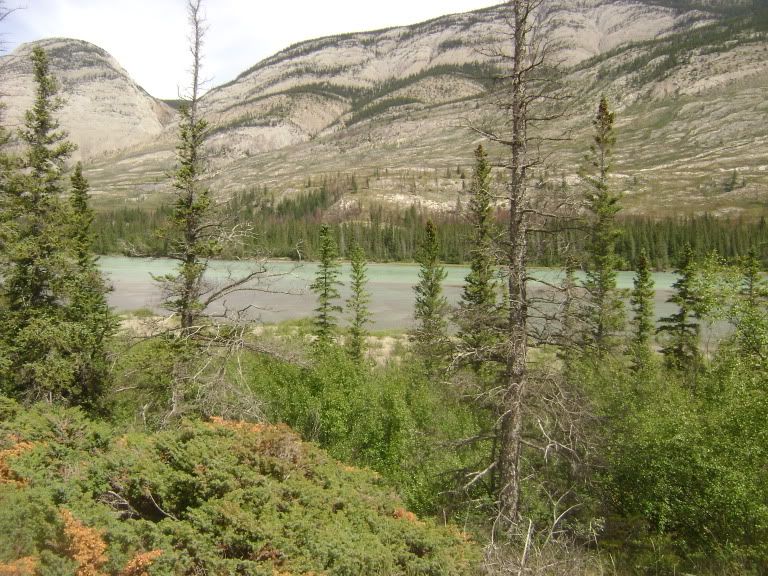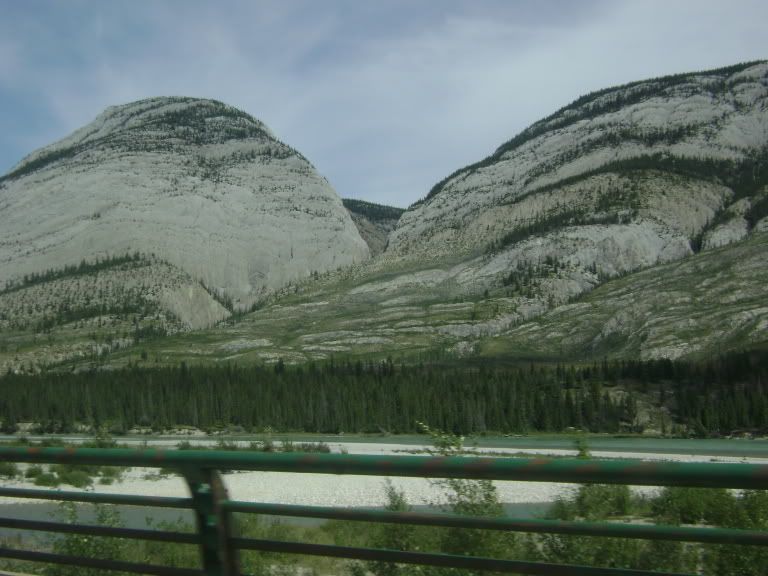 A small herd of mountain goats: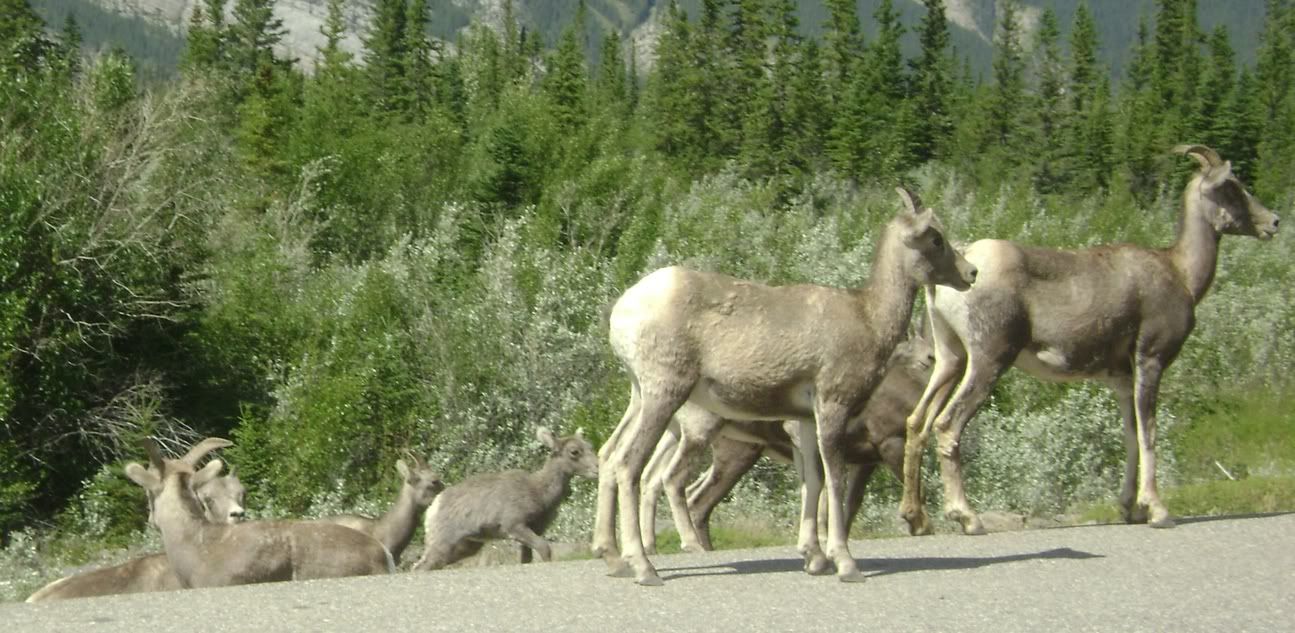 Before going home we had a dinner at Carol's home in Edmonton: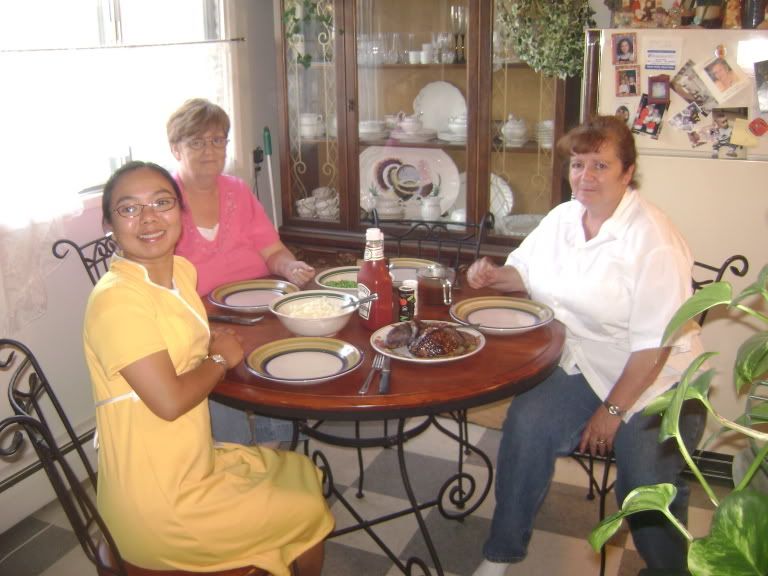 On the way back Emmie got to see the Rockies a second time. For her first time ever, she got a window seat that wasn't over a wing: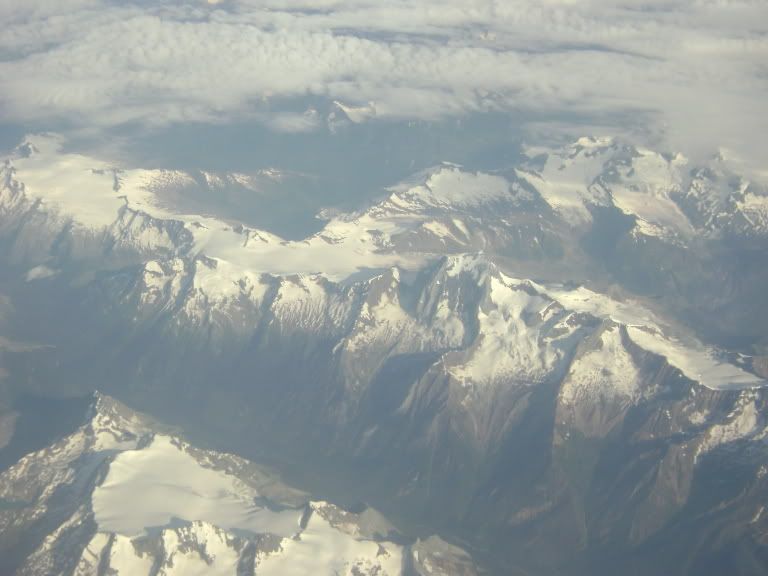 After returning to Victoria we turned around and headed off to Vancouver. We took along our granddaughter Talia.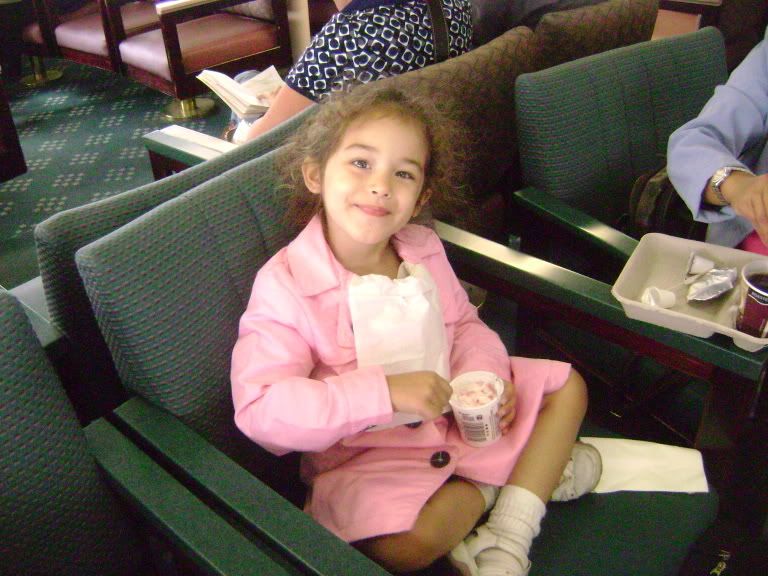 We joined up with Abi and Jon (my niece, Jo-Anne's daughter, and her boyfriend) and took in the Vancouver Aquarium. Our camera didn't take the best pictures in the Aquarium's lighting, and neither of us are foto-savvy enough to fix the settings, but we all enjoyed ourselves. Abi and Jon are members and provided us with free passes.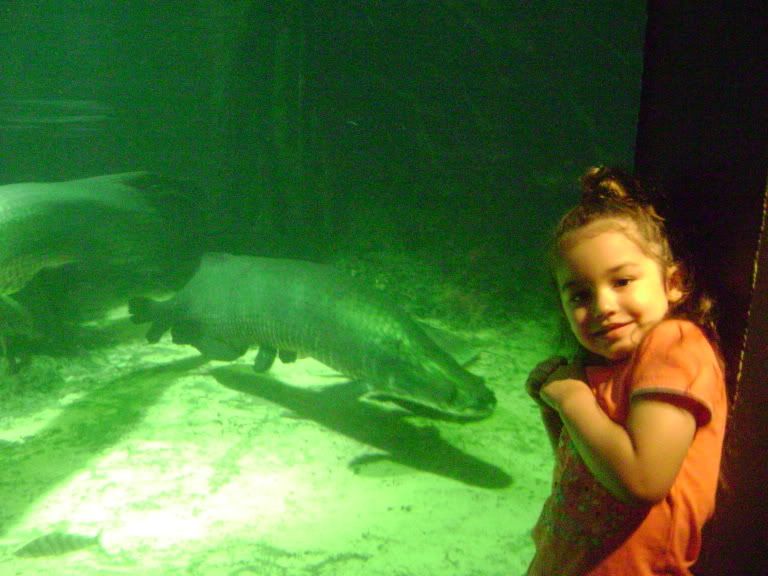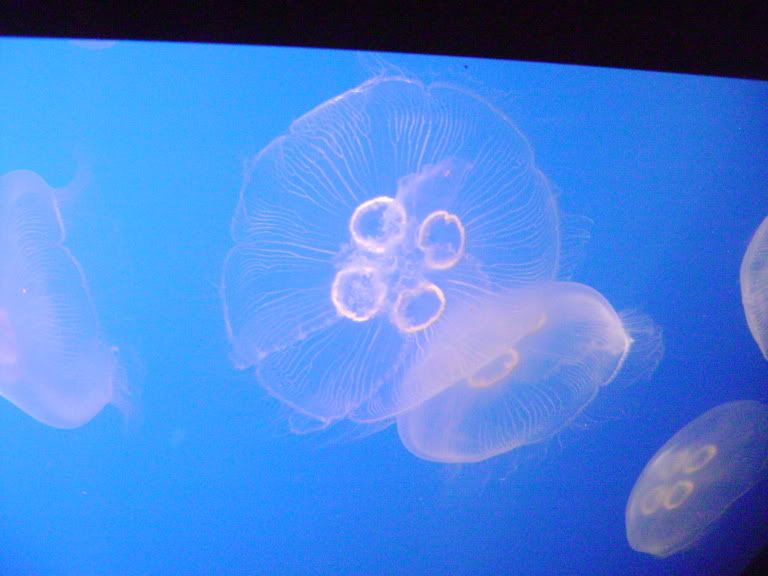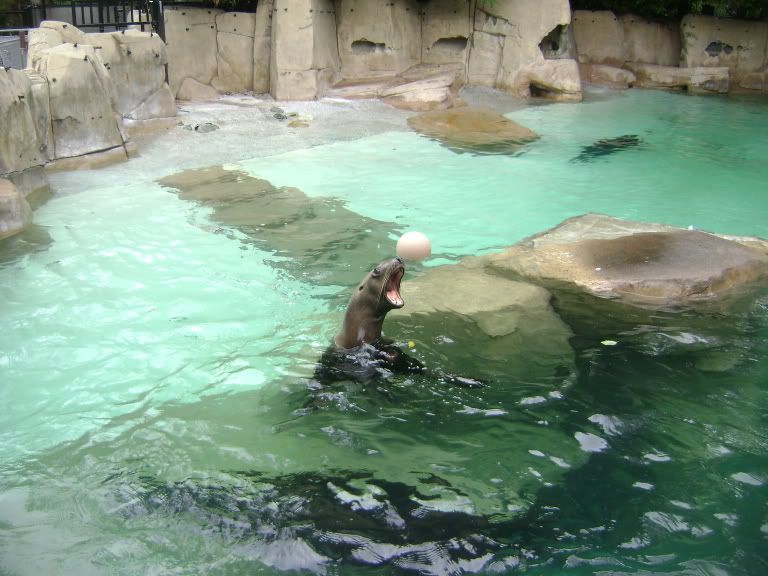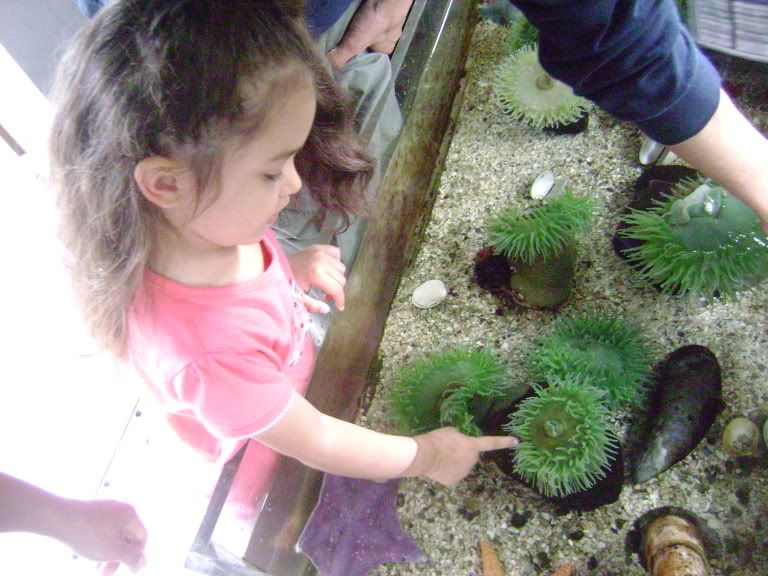 The only rudeness we had to deal with was at the dolphin show. A woman didn't want Talia to have the spot beside her at the front. She insisted she had been saving it for her grandson. There was more than enough room in front of her (Talia was standing in front of me), but rather than argue, I just ignored her. When the kid came he took one look at the ice cream Talia was enjoying, threw a tantrum, demanding his own, and missed the show. She got the spot all to herself.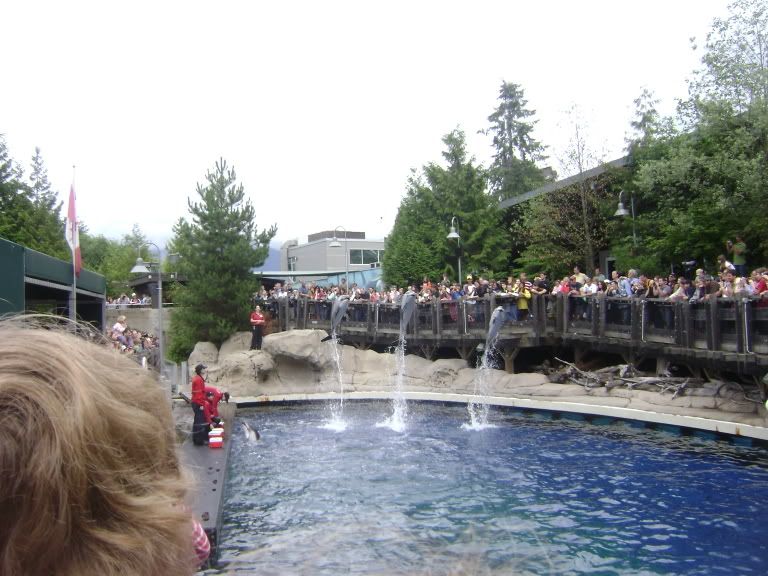 Talia in the play area. Showing off her 'tat's: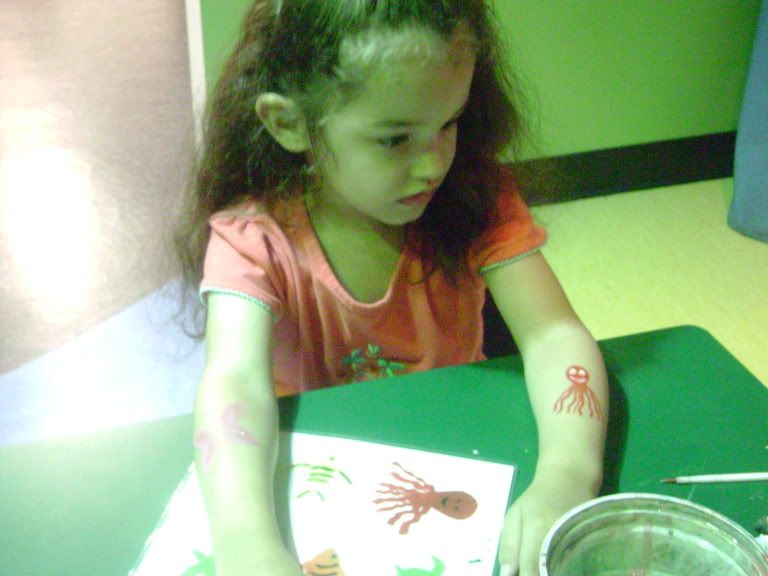 Talia examining a sick seal. I wondered about the correlation between kids playing here and ear infections, but she enjoyed being the vet.
On Sunday we went to a Philippine church service, where Talia adopted this little girl (we did manage to free her before leaving):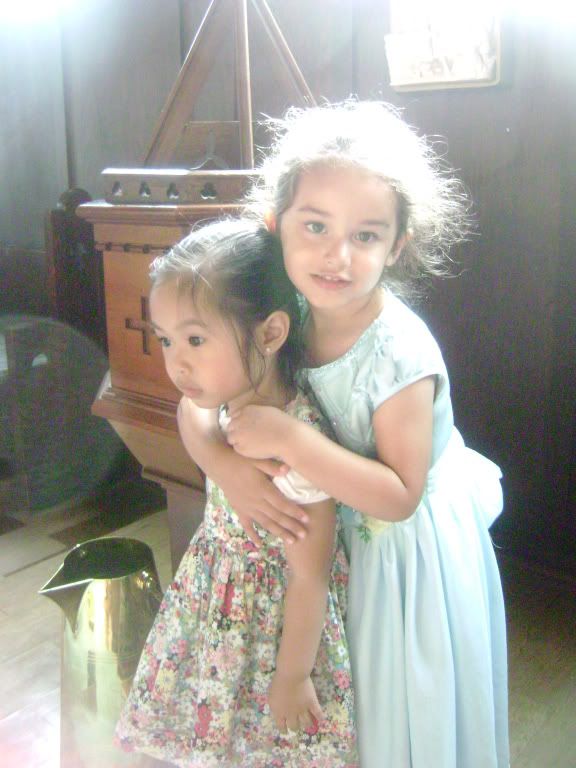 We were home the next day and back to work the day after that. It was all too short. There are lots more pictures and I will be posting more in a Facebook album.