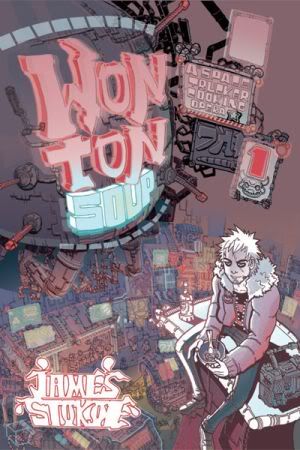 Writer: James Stokoe, Artist: James Stokoe
Published by Oni Press
Johnny Boyo was the top student a the Plaxos Cooking Academy, but he felt the institution was turning him into something he didn't want to be. He was loosing his edge. So, he did what any self-respecting culinary genius would do. He quit and became a space trucker.
In the first volume we meet Johnny and his trucking partner, the libidinous Deacon Vans. A run in with space ninjas brings Johnny back to Plaxos and his past. In the second volume an extended drug binge finds the two stranded on a backwards planet, in search of a means of refueling their ship. While the first volume's narrative is pretty straight forward, the second's sets up a variety of stories - hallucinatory, microscopic, and otherwise. This serves Stokoe's storytelling skills well - he excels at taking offbeat ideas and working them into the whole - but the best of those ideas seems to take a back seat. In volume one Johnny was a master chef who hauled space freight. In volume two he's a space trucker who cooks. Food's there, but it isn't as important to the overall story. And that's too bad.
Artistically, the first thing you notice about Stokoe is the similarity of his work and
King City
's Brandon Graham. I am not the first to notice this and I am sure Stokoe must be getting tired of hearing how much his work reminds people of someone else's. The two did share a studio at one point, as members of the YOSH collective (I've no idea what YOSH means). It's a loose, fun style that serves it material well. If you're looking for something different, imaginative, and fun, you don't need to look any further than
Wonton Soup
.