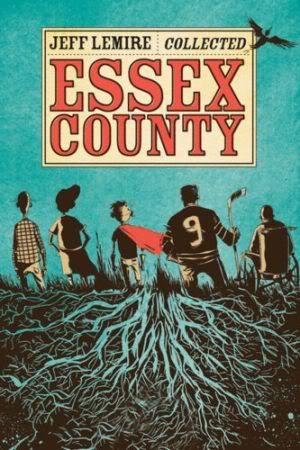 Writer: Jeff Lemire, Artist: Jeff Lemire
Published by Top Shelf 2009
This omnibus edition collects together
Tales From The Farm
(2008),
Ghost Stories
(2008), and
The Country Nurse
(2009). The first tells the story of Lester, who has been sent to live on his uncle's farm following the death of his mother, and the friendship he is drawn into with a former pro hockey player, unaware of the ties the two share. The second is the story of Lou LeBeuf, an old man lost to memories of betrayal and exile. The third follows Anne Quenneville and her daily ministrations throughout the community.
I don't know what it is about Canadian authors that draws them to rural and small town Canada - throughout our history we've been drawn to cities - but Lemire himself is from rural Essex County, Ontario and, while the stories are fiction from start to finish, his sense of place and his ability to evoke that sense leaves a deep mark on the story and its readers. I was surprised by the number of unwed mothers in the story, given how conservative Canada was, even fifty years ago, but like Lester and the hockey player, these characters are all drawn into a history that they seem to live out generation after generation, as though it were somehow written into their very makeup and they exist only to perform variations of it. It serves to tie them together, in spite of lives marked by loneliness and isolation. Thinking about the book I was reminded of the idea of the eternal return and the playing out of the same patterns over and over until self-awareness allows for the possibility of change or renewal.
Given how quickly the three volumes that make up this collection were put out (in less than two years), it seems obvious that Lemire meant for them to be considered as a single work and I suspect this collected volume was the goal. It is available as with cloth or paper binding. You'd be hard pressed to name a better investment for your comics dollars.