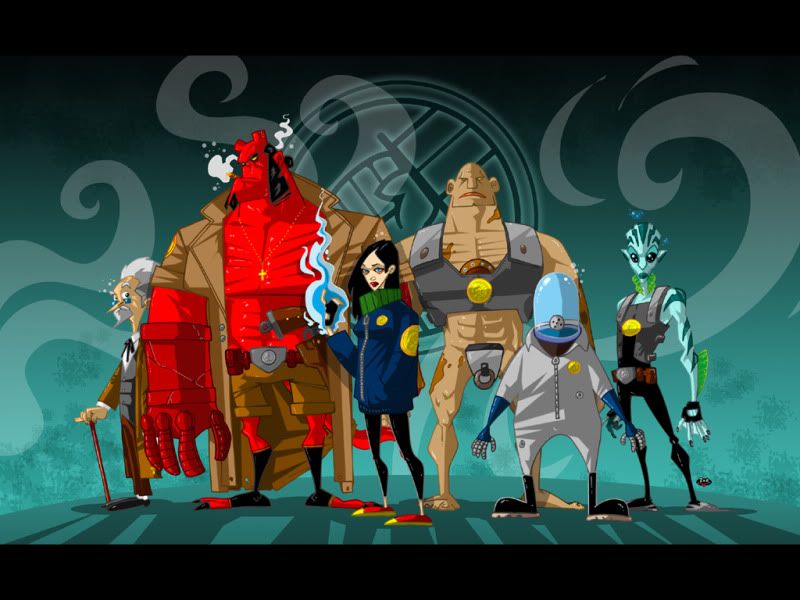 While my writing here may have trailed off a bit, actually I have been doing a lot of writing lately for a comic forum reading club, specifically the Outhousers
Hellboy/B.P.R.D. Reading Club
. We are going over each Hellboy and B.P.R.D. in order of publication. Ideally we are doing a new volume every two weeks, though the short story collections tend to weigh down the schedule as people want to discussion each story in turn, rather than the whole volume in a post.
We've just gotten up to volume four and I thought it was high time I started sharing them here. I am going to post each of my reviews on the blog and then edit this post, adding a link to each new review. I will also create a link to this post in the left column, under Writing Projects.
As always, I welcome your comments. I also welcome you to join in on our discussion at the forum.
Hellboy Volume 1: Seed of Destruction (October 1994)
Hellboy Volume 2: Wake The Devil (June 1997)
Hellboy Volume 3: The Chained Coffin and Others (August 1998)
Hellboy Volume 4: The Right Hand of Doom (April 2000)
Hellboy Volume 5: Conqueror Worm (February 2002)
B.P.R.D. Volume 1: Hollow Earth & Other Stories (January 2003)
B.P.R.D. Volume 2: The Soul of Venice and Other Stories (August 2004)
B.P.R.D. Volume 3: Plague of Frogs (February 2005)
B.P.R.D. Volume 4: The Dead (September 2005)
Hellboy Volume 6: Strange Places (April 2006)
B.P.R.D. Volume 5: The Black Flame (July 2006)
B.P.R.D. Volume 6: The Universal Machine (January 2007)
Hellboy Volume 7: The Troll Witch and Others (October 2007)
B.P.R.D. Volume 7: Garden of Souls (January 2008)
Hellboy Volumes 8-10
Johnson, Abe, and Sir Edward