I haven't reviewed an individual comic in a while, but I was discussing this one in a review group and one thing led to another...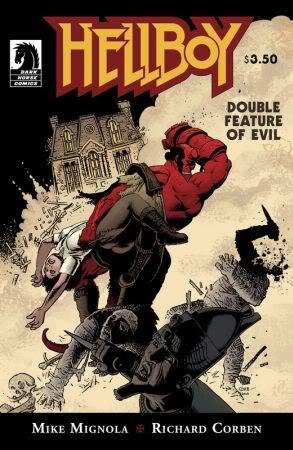 Writer: Mike Mignola; Art: Richard Corben; Color: Dave Stewart; Letters: Clem Robins
Published by Dark Horse, 2010
Sullivan ruined his life with alcohol. He lost everything. Then one day, sitting in a drunken stupor, a strange man approached him. He offered him a gift: a small amount of cash and house in Kansas. From the moment Sullivan accepted the gift, his cravings for alcohol disappeared. The house was old. The body he found inside… not quite so old. Sullivan buried it in the backyard and magically three gold coins appeared. That night he had strange dreams. In the morning his cravings had re-appeared, but he knew what to do. He lured an old woman into the house and shut her in the same room in which he'd found the body. He got three more coins and he buried her in the yard. He called the Bureau and they sent Hellboy. This is the first, and longer, of the two stories in our
Double Feature of Evil
, a comic very much modeled after the sort of B-movies and Warren comics I enjoyed in the 70s.
Another memory of my 70s childhood was reading Richard Corben in
Heavy Metal
magazine. I hadn't come across him too often between and
Makoma
, his first Hellboy story, and I'll be honest and admit that it wasn't until he nailed Asmodeus in
The Bride of Hell
that I really began to get excited about their collaborations. In my write up of the first
B.P.R.D.
trade I mentioned how the stories were inked to match Mignola's work. This is something you see in the more recent
Hellboy
comics as well. Its not something you'll see with Corben. He comes to the character with his own well established style. One famous for its larger-than-life, well muscled heroes and its monsters, making him both a distinctive voice and a good fit.
I enjoyed the two stories very much (the second involves a man who draws of ancient magics to get his revenge, but doesn't take the time to really learn all he should), but having read some online discussion of it, I suspect a part of my enjoyment may stem from being able to draw on, as a reader, the same pop cultural wellsprings I think Mignola did as a writer. These are good stories. Fun stories. Greed, lust, and anger are met with well deserved, but surprising endings. People get what they deserve--eventually--and isn't that what we all want?